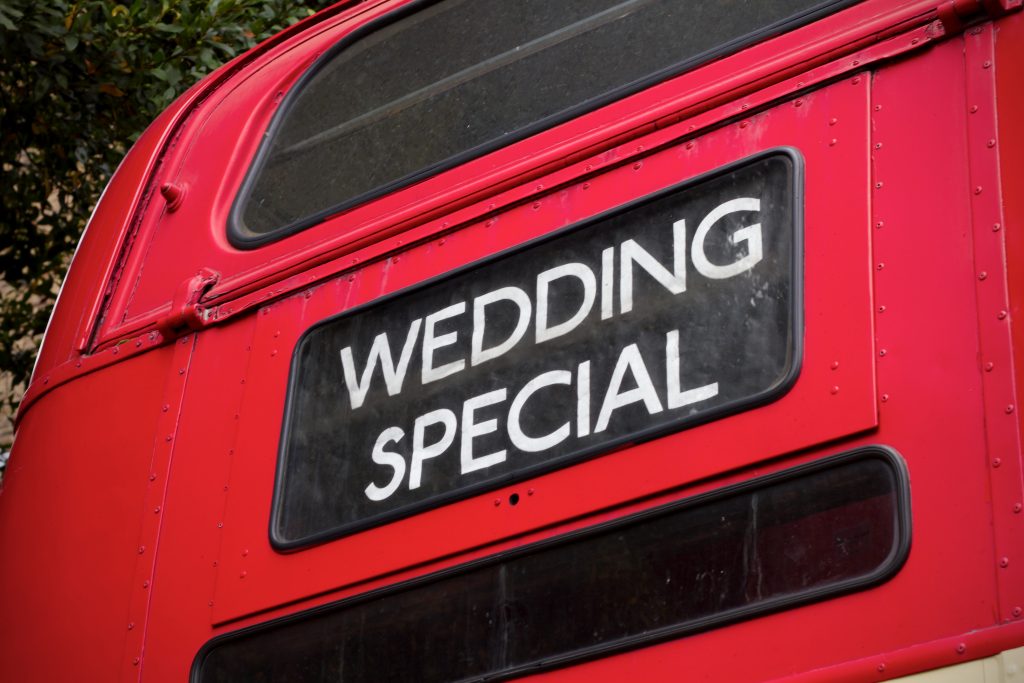 It is always the desire of every couple to have a luxurious and stylish wedding that their guests will be proud of. However, you do not have to spend so much money in order to pull out a prestigious wedding anymore. At Bus Rental Singapore, we offer the best luxury wedding bus services that guarantee safe and reliable transport for couples, their entourage and guests to all venues. In fact, there is always greater convenience that comes with obtaining a chartered bus for your wedding. Without so many hassles, we can turn your wedding into a remarkable story worth remembering.
Although a wedding is a special day when everyone needs to be happy and in their high spirits, there are some things that could easily cause disruptions and hurt the mood. For example, asking guests to use their own means of transport can delay the wedding program, and even mess up the whole plan. With a luxury wedding bus, the couple and their guests are guaranteed a much easier and quick movement across all the wedding venues in accordance with the event's program.
Our luxury wedding bus services go further than just delivering safe and flexible transportation for couples and guests to and from wedding venues. We believe that passengers should also be accorded an appealing environment that guarantees their safety and also keeps them entertained throughout the trips. We have a dedicated and friendly customer service team to listen to all your needs and ensure that you receive a customized wedding bus charter.
Travel in ultimate Luxury, Comfort and Safety
In transporting couples and guests to wedding venues, we are always committed to ensuring the safety of every passenger aboard our fleet. All our buses are kept in the best conditions and assigned to licensed drivers to ensure the smooth movement of passengers to all destinations. Besides, our fleet is also equipped with various features and facilities to give all passengers a more enhanced environment where they can enjoy every distance of their trips.
Our luxury wedding charters are air conditioned and furnished with decorative interiors to set your guests in the right mood for the wedding celebrations. Besides, we have also included comfortable leather seats for a smooth ride across different wedding venues. We have also installed sophisticated entertainment systems including CD/DVD and wide LCD screens for a more relaxed travel. Passengers can also enjoy free Wi-Fi on our fleet to share the great moments with the rest of the world.
Based on your needs, a luxury wedding bus can also be turned into an ideal platform to party with your guests after the wedding. With a bus that can serve as a means of transport and also an exclusive party spot, you will be able to save so much money on the costs of wedding venues and even travel for the event.
Luxury Wedding Bus to all Venues
In most weddings today, there are usually different venues to cater for the diverse activities of the special day. As a result of this, you must always be very keen on the means of transport to use in order to ensure that the program is not delayed. Depending on the requirements for the occasion, guests may sometimes start coming in a day or two before the wedding date. However, some may also travel on the particular day of the event.
Considering all these, coordinating reliable transport can be very tricky on your own. By obtaining a wedding bus charter, you will no longer have to worry about such tasks because we can always take care of the safe and comfortable transport for all your guests to and from all the stipulated destinations. As a result of this, you will have the time to concentrate on the core activities of the wedding.
Our wedding buses are ideal for transportation over short and long distances to give every couple and their guests, the opportunity to enjoy the great day to the fullest. Even if you may wish to travel to an exotic resort or landmark for photo sessions, we can still ensure that your needs are met for an amazing experience. We can save you from common logistical problems that could hurt your wedding.
Get in touch with us now for your ideal Luxury Wedding bus rental!
Customized Luxury Wedding Bus Rentals for all Group sizes
The number of guests usually varies from one wedding to another. Sometimes, couples expect just a small number of guests but end up with overwhelming numbers. This means you must always be keen when choosing a luxury wedding bus to ensure that all your guests are able to travel in comfort without leaving anyone behind. We have various sizes of wedding rentals to suit different group sizes.
Our other wedding rentals include;
Whether you have just a small group of guests consisting six people or a larger one of more than 50 people, we have the right wedding rentals for safe and comfortable transport. Our buses are designed with ample seating space as well as carriers to ensure that guests can also easily travel with their luggage and gifts for the couple.
The Best Wedding Bus Charters for every Budget
By relying on Bus Rental Singapore for a luxury wedding bus charter, you will no longer have to worry about spending lots of money on the transportation of your entourage and guests to and from the venues of the event. We have one of the cheapest rates in the industry to enable you spend just a little money for luxury wedding bus services.  We believe that every wedding requires a unique and honorable treatment, and would not let even a limited budget hinder you from achieving the desired experience. Depending on your budget, we can always deliver an ideal wedding rental that guarantees comfortable, safe and convenient travel for the couples and guests before, on and also after the special day.
Apart from luxury wedding bus rentals, we also offer luxury charters for other special occasions across Singapore including, bachelor and bachelorette parties, birthday parties, airport transfers, family meetings, and corporate parties among others.