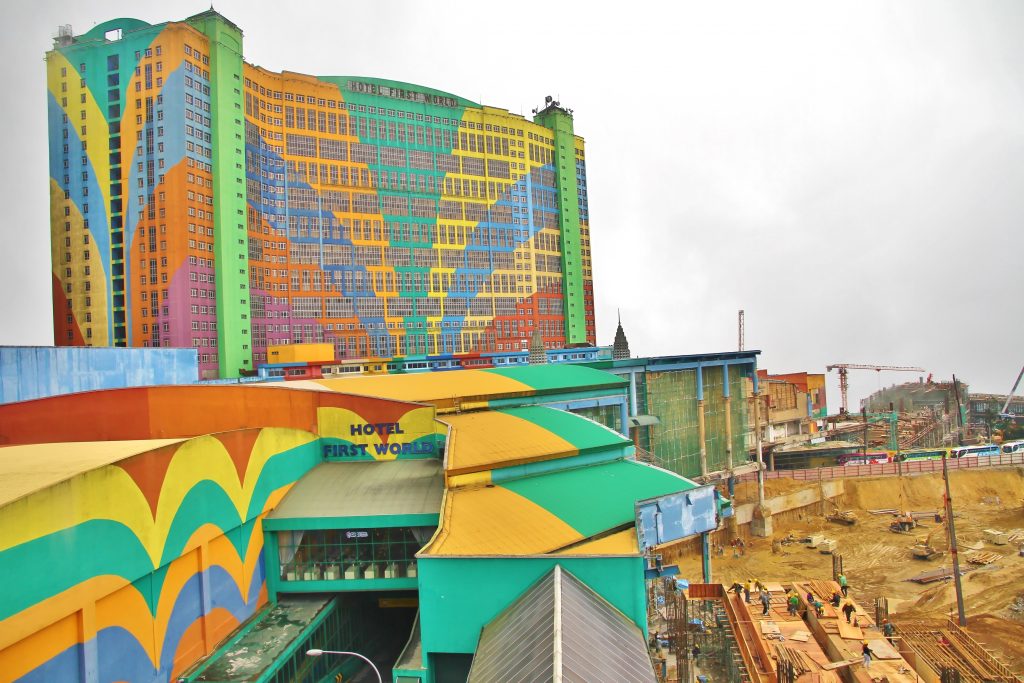 Genting Highlands is one of the most popular destinations for many tourists visiting Malaysia. Despite its close geographical location to Singapore, Genting offers great attractions for relaxation and fun for the whole family. The scenic views of the area, historical attractions and facilities around Genting Highlands have earned it the reputation of one of the most sought after holiday destinations by locals as well as tourists from other countries. For you to enjoy a tour of the area with a group, you must always be keen on obtaining an ideal means of road transport.
A coach rental from Singapore to Genting Highlands is the most convenient and affordable means of experiencing the diverse attractions that this destination offers. Bus Rental Singapore can help you to easily avoid common hitches when traveling between Singapore and Genting with large groups of people. We have the best coach rentals with drivers to ensure safe and comfortable group trips to Genting and back. Besides, using our rentals can also help you save a lot of money on tours or events involving movement between Singapore and Genting Highlands.
Stress-free Trips to all Attractions in Genting Highlands
There is no destination or attraction in Genting that we cannot take you to. We understand the diversity in attractions and activities that people can visit and indulge in while in Genting. Hence, are open to transport all groups to just any destination of your choice in as well as around Genting. Our goal is to ensure that you are able to get the most exciting experience of your dreams when visiting Genting Highlands.
Over the period that we have been in service, we have been able to cover trips from Singapore to various destinations in Genting including;
Theme parks
Shopping malls
Restaurants and food kiosks serving local and foreign cuisines
Nature walks and hikes on the mountain
Strawberry Farm
Genting Highlands offer a cool climate that is ideal for those looking for exclusive resorts and hideaways from the busy city life. The highlands offer beautiful scenery with various plant and animal species great for sightseeing tours and excursions. In Genting, you can always create a perfect home away from home with the various accommodation facilities offered in the surrounding resorts and hotels.
Genting Highlands is not only for fun and holidays but could also be ideal for official events like corporate conventions and meetings. In fact, we transport huge numbers of people from Singapore going to work in Genting. Despite the purpose of your visit to Genting Highlands, we can always help you get the right coach rental and destination.
Reliable and Dependable Coach Rental Services
Although some people have in the past shunned road trips to Genting on claims of inconvenience, our company has brought in a revolution that can now enable you to travel whenever you want and on your own terms. Through our coach rental services, small, medium and large groups can now enjoy smooth and flexible trips from Singapore to Genting without facing any hitch.
Our coach rentals are available for any group size that might need convenient transportation to Genting Highlands. Based on your schedule, we can arrange for timely and regular pick-ups and drop offs for those who need to travel daily. With us, you do not have to hurry to the bus stop to get a ride instead; our coaches can always pick you up from the comfort of your home. Besides, our charter services are also recommended for one way and return trips. We can always customize a coach rental service to suit the specific demands of every group.
Unlike using public transport whereby passengers are not usually allowed to change travel schedules, we allow our customers to make changes even while on the road. As a result of this, all passengers are accorded the opportunity to enjoy the trip in the best way that suits them. For educational trips, excursions and other special occasions, groups can also schedule stop-overs along the way. We always try to give passengers so much freedom when traveling so you can focus on the activities of the trip.
It is a common practice that most people usually plan for trips ahead. However, there are also some situations that do not offer adequate time for planning. For example, urgent meetings, technical or mechanical breakdowns. Instead of delaying your trip, simply call us for a coach rental service. We will be able to dispatch a bus to your location for immediate transport to the required destination. Our drivers have a better understanding of the region and can make sure you are able to spend very little time on the road during emergencies.
Get in touch with us today for your coach rental from Singapore to Genting.
Travel in Ultimate Comfort from Singapore to Genting
At Bus Rental Singapore, we are not only concerned about making sure that you are able to get to Genting Highlands safe but also in ultimate comfort. When you are comfortable, you can always travel to any destination without feeling tired or aching from the trip. Our coaches are regularly maintained and fitted with enhanced facilities to deliver just the perfect comfort for every passenger. All our rentals are fully air-conditioned for a cool ride throughout the trip.
Other elements of comfort and luxury on our rentals include;
Comfortable, reclining leather seats
Wide LCD screens/DVD/CD and radio for entertainment
Spacious coaches for passengers and luggage
AC Outlets
These are not all the amenities that passengers can enjoy on our buses. In fact, our fleet also comprises coaches with Wi-Fi. We have a wide range of coach rentals with diverse features customized for various kinds of trips and occasions. Our company has specialty buses and coaches including, double decker and party buses that are ideal for more fun-oriented trips between Singapore and Genting.
Even after transporting you to the destination of your choice in Genting Highlands, our buses can still be customized for parties on location. Coupled with our affordable rates for coach rentals from Singapore to Genting, there is no doubt you will be able to enjoy an amazing trip for less. We offer the lowest rates in the industry that can suit every budget.
For the most comfortable and affordable coach rental from Singapore to Genting, talk to us!