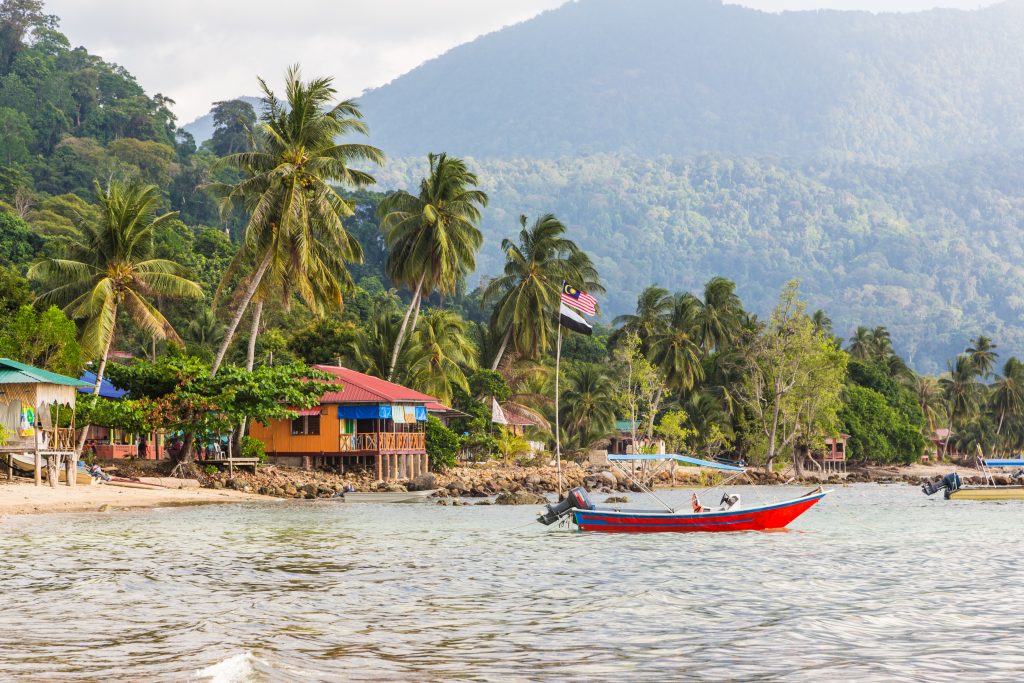 Tioman is a small island measuring just about 39km by 12km in length and width respectively, and found in the east coast. Today, it is reserved as one of the most beautiful islands in the world attracting local and foreign visitors. The Tioman Island boasts sandy beaches and a cool weather; ideal for weekend getaways or holidays. In order to have the most fulfilling experience visiting this magnificent island with a large group of people, it is always advisable to get a coach rental from Singapore to Tioman.
The island has eight main villages, which are still sparsely populated. As a result of this, it offers great freedom of enjoying tours across the island. Besides, there are several other features and attractions that you can also enjoy with the family and kids in Tioman Island. Even before you get to the island, there are still other great attractions in Malaysia to treat yourself to along the way. The island is closer to mainland Johor, and can be accessed via ferry from Mersing town.
Popular Tour Destinations and Attractions in Tioman Island
At Bus Rental Singapore, we have a better understanding of Tioman Island and its environs to help you in choosing the best destinations and attractions for your trip. There are numerous spots that we can take you while on a tour of Tioman for a remarkable experience. Some of the key attractions to consider when planning a trip between Singapore and Tioman include;
Sandy beaches
Panuba Bay
Juara Turtle Project
Mersing Marine Park which contains other islands like Sibu Island
White coral reefs
Air Batang
Minang Cove
Diverse aquatic plant and animal species
Mount Kajang
Tioman Island is home to several protected mammal species including, slow loris, binturong, black giant squirrel, and mouse deer among others. Besides, the island also has a total of more than 138 bird species and the Tioman walking catfish, which can be seen on rainforest walks across the island. The island's fresh water and coral makes it an ideal spot for swimming, diving and several other water activities.
For a more exciting trip, you can also move further from the island to the surrounding areas. Some of the best tour destinations around Tioman Island include, Tulai Island, Pulo Jehat and the Three Little Islands; Labas Island, Sepoi Island and Soyak Island. In fact, Tioman Island and its environs offer diverse attractions that can enable you to get the true experience of Malaysian culture.
Traveling by Bus from Singapore to Tioman
Although Tioman is an island, every group of tourists will need an ideal rental to move from Singapore to Mersing town. Our company will cater for your transportation between Singapore and Mersing from where you can choose the most appropriate means of getting to the island. Since Tioman receives thousands of visitors daily, there are various means of movement from Mersing town to the island including, ferry services and speedboats. Ferries can be boarded from Mersing or Tajung Gemuk based on what is convenient for you, and the condition of tides.
Unlike speedboats, ferries are usually crowded since they serve the general public and could be restrictive for those who need to take a tour of the island and its fresh waters. When using ferries, they usually stop at different Kampongs on the way to Tioman for great adventure. However, ferries require passengers to always keep to stipulated departure time to avoid missing their trips to the island.
Speedboats are usually ideal since they can be chartered by individual groups for private use on trips to the island at any time. Besides, you also need to know a good company that can offer the right speedboat to cater for your trip. But, there is no reason to worry because we can still help you choose the most reliable and efficient means of transport from the mainland to Tioman. With a speedboat, you can be able to tour all the villages and attractions in Tioman at your own convenience.
In case you may need a faster means of travel to Tioman, you can also take a plane to Tioman Airport. The island has concrete paths and roads to guide you around the island on foot, bikes or cars, depending on the purpose of your trip.
Getting in to Tioman Island
In order to get into Tioman Island, there is a RM5 Tioman Island fee, and a RM10 and RM20 for students and regular tickets to the Marine Park. The fees are usually paid at designated shops located at the Mersing ferry terminal. Tekek is the most likely entry point into Tioman from where you can be transferred to various destinations with the help of an escort or tour guide.
Get in touch with us today for your coach rental from Singapore to Tioman.
Choose the Best Coach Rental from Singapore to Tioman
Considering the diverse attractions in Tioman Island, planning a trip or tour in or around the area could be challenging, especially when visiting with a group of people. Our company offers a wide range of rentals for all groups willing to travel to the island for excursions, corporate conventions, family re-unions, holidays, work, parties as well as leisure trips. Our coach rental services have been hailed as the ultimate travel solutions that can deliver the specific needs of local and foreign tourists moving from Singapore to Tioman.
By obtaining a coach rental from Singapore to Tioman from us, you are guaranteed the following;
Buses, mini buses, minivans and shuttles for all group sizes
Reliable and dependable services offered on your own terms
Luxurious rentals with air conditioning and great entertainment systems
Affordable coach rental services suited to every budget
Our rentals are not only for moving passengers between destinations but could also be customized for parties. We have specialty buses that you can also choose from for celebrattions while on the journey to Tioman Island. The buses can even be parked at designated locations to serve as platforms for birthdays, weddings, graduation celebrations and other kinds of events.
For the most ideal coach rental from Singapore to Tioman, do not hesitate to talk to us!