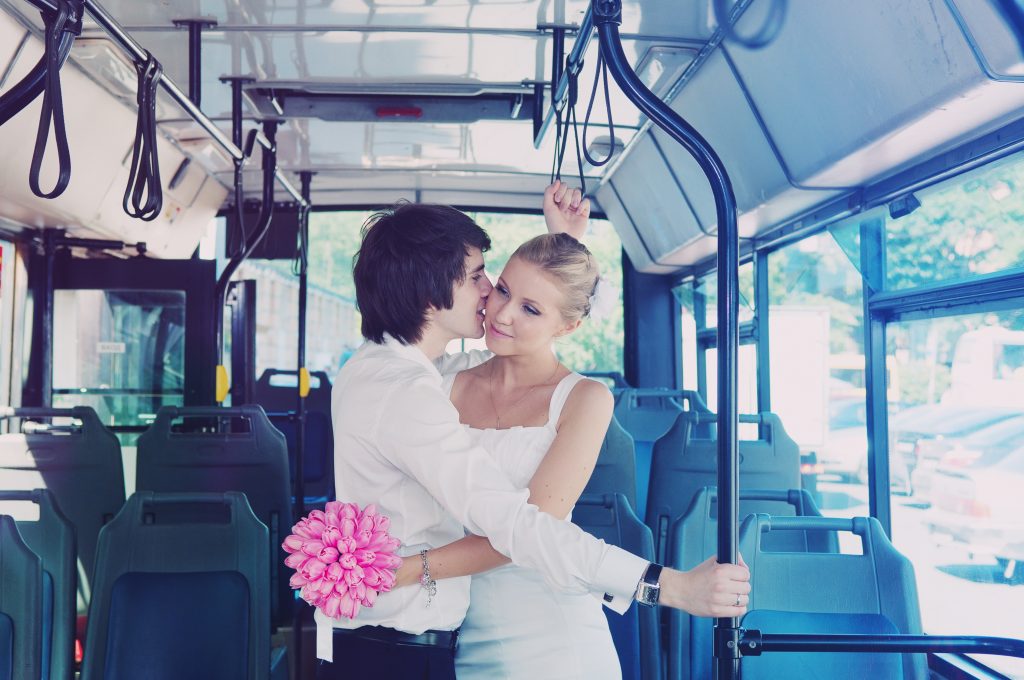 A wedding is a very special occasion when you need to deliver your best and give guests a peak at the kind of life that you intend to pursue after the union. Therefore, a keen attention to details is always recommended in the planning process. You have to choose the most suitable means of travel that can guarantee comfort, luxury, reliability and affordability to and from all the events of the wedding, including the after party. With an ideal wedding bus service from Bus Rental Singapore, both the bride, groom and guests can be accorded the best treatment for a memorable wedding.
A wedding usually involves a series of activities that can be conducted in different locations. For instance, vows can be exchanged at a religious venue as the reception party is held in a resort or hotel. On personal or company vehicles, moving guests across these venues can be a real headache. Choosing a good wedding bus service is a more efficient and convenient option that can ensure a safe and luxurious travel to all wedding venues.
Singapore is a country with a wide range of amazing wedding destinations that can cater for diverse interests and preferences. However, that is not the only aspect that our wedding bus rental charter focuses on. We are also committed to offering all the passengers on our wedding buses, unique services for great fun throughout the trips. We can deliver the right wedding bus service that is customized to your needs both on and off the bus.
Enhance convenience with the Best Wedding Bus Charter
Imagine the humiliation of being forced to postpone some wedding activities or alter the entire program simply because some guests are unable to get to venue on time. We offer highly reliable services that are delivered on your own terms. We understand that weddings usually have diverse plans and are willing to operate within your requirements for the ultimate satisfaction.
Our wedding bus service guarantees the following;
Luxurious wedding buses for all group sizes
Flexible pick-ups and drop-offs to suit every wedding program
Fast transport to avoid delays
We have experienced drivers to ensure safe and smooth rides to and from all the wedding venues. Depending on the number of guests who will be attending the occasion, we can deliver a more suitable bus to cater for their transportation. Even if the guests will need to travel with gifts to the venues, we can still offer buses for passengers as well as luggage.
Luxurious Wedding Bus Service to keep your guests in good moods
Just like the wedding requires a special kind of treatment, your guests should also be accorded a fun-filled trips as they connect the venues. Through our services, your guests are always assured greater comfort and safety to and from all the wedding venues. We have well trained wedding planers and experts to help you in creating a memorable experience. As a result of this, we will be able to incorporate custom facilities and amenities to set the right mood for the occasion.
There are various kinds of features and amenities that can be enjoyed from our wedding bus services including, fully furnished buses with air conditioning, leather seats and decorative interiors. Besides, we also have great entertainment systems that include wide LCD screens, CD/DVD from where guests can watch and listen to pre-nuptial pictures and videos. To take the fun to another level, we can also customize the buses and services to create an environment where guests can party while traveling.
Travel to any destination with the ultimate Wedding Bus Service
With the right wedding bus service, you do not have to restrict your guests to only one venue for the entire occasion. We give you the freedom of enjoying a unique experience with your guests across several wedding destinations in Singapore and Malaysia. Depending on the theme of the wedding and the kind of picture that you need to portray, we can deliver the best services for your safe transport to various venues including church, hotel, and airport among others.
While on a private wedding bus, you and your guests can choose to visit different exotic locations to take photos and socialize with each other. This will ensure a more stress-free wedding that will leave everyone happy. We can deliver a wedding bus service for travels around the city as well as long distance destinations. In all these situations, you are guaranteed the ultimate experience.
Talk to us now for a reliable, affordable and prestigious wedding bus service.
Large Collection of Customized Wedding Buses to Choose from
Weddings bring together different groups of people with the common purpose of celebrating the special occasion. However, not all usually travel in the same bus. Depending on the groups of guests, it is also advisable to have different groups including, parents, friends and workmates travel on individual buses.
Our fleet of wedding buses comprises of the following;
Wedding limousines for the bride and groom
Luxurious mini buses and minivans
Large-sized wedding buses
We can always help you choose the best wedding limousine, mini bus or bus for the occasion. Despite the separate travel options, we will always ensure that all the services are delivered according to your needs.
Affordable Wedding Bus Packages to suit every Budget
Travel costs is indeed an important factor to consider when planning a wedding but it should not hinder you from having the desired experience. Instead of worrying about transportation costs to and from wedding venues, simply hire our wedding bus service. We have one of the lowest rates in the industry that will not push you to cut deeper into your budget.
We understand that hiring wedding venues, people to do the designs, catering services among other requirements already have a huge financial impact on your budget and would never want to give you anymore burden. Our services are fairly priced to enable you and your guests enjoy a great time for very little.
By obtaining a wedding bus service from Bus Rental Singapore, you are always guaranteed the most fulfilling experience in any venue, at an affordable rate.