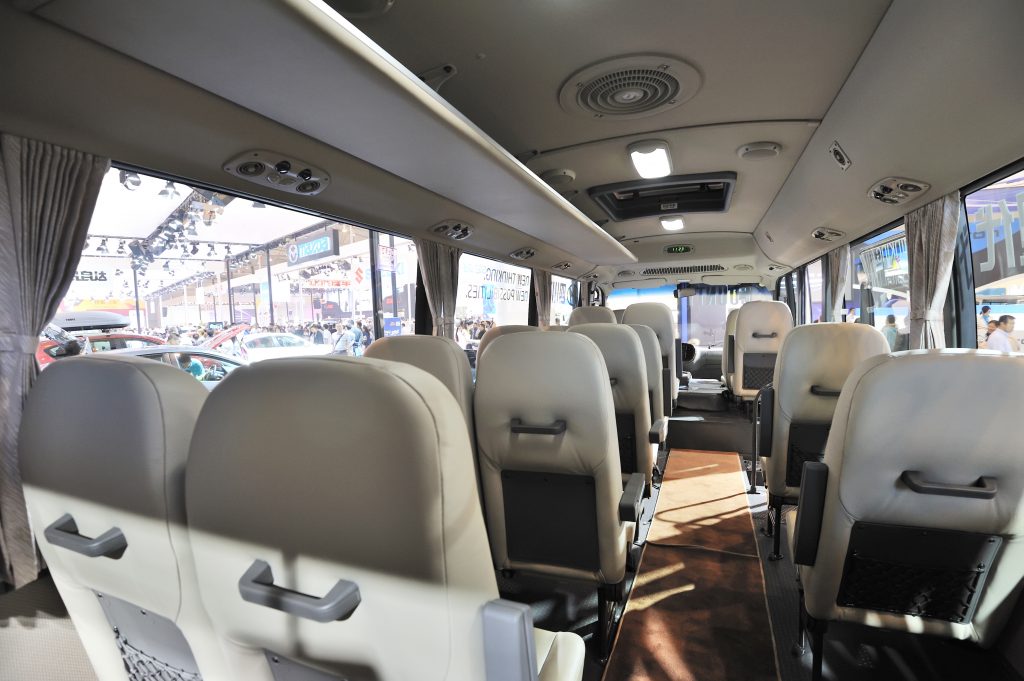 A luxury limo shuttle bus rental is an ideal option for the most comfortable, safe and reliable travel over short and long trips. At Bus Rental Singapore, we offer the most prestigious limo shuttle buses, with licensed drivers and attendants to give you the most fulfilling journey to any destination in Singapore and Malaysia. Our commitment is to deliver a wide range of customized .luxury limo shuttle bus charters that guarantee highly convenient and affordable travel solutions across Singapore and Malaysia.
We understand the diverse needs of clients and can always offer the most appropriate luxury limo shuttle bus rental services for both small and larger groups of travelers. Despite the distance of journey and special preferences, we have the best shuttle bus travel options for the ultimate satisfaction. With us, you are guaranteed a unique traveling experience in great comfort and style. We strive to provide professional services and the right environment for safe trips to all destinations in Singapore and across the causeway.
Customer service is a key pillar of our service delivery plans, and we have a team of travel experts to respond to all client inquiries regarding our charters round-the-clock. Besides, we are always very keen when attending to client requests to ensure that you can always get the best luxury limo shuttle bus rental that is well suited to your specific needs, schedule and budget.
Travel in ultimate comfort, safety and style
At Bus Rental Singapore, we believe an ideal transport option should be able to offer all passengers the most conducive environment to travel in without worrying about their safety. In fact, we can go out of our way to make sure that you get the right luxury limo shuttle bus charter that complements your lifestyle. Our fleet comprises limousines with unique and standard features to deliver unmatched comfort and safety to diverse groups of travelers.
Our luxury limo shuttle bus rental packages guarantee you the following;
Air-conditioned limousines
Fully furnished buses with leather seats
Spacious shuttles to cater for passengers and luggage
Great entertainment and Wi-Fi access
As soon as you board any of our luxury limo shuttle buses, you will notice a different kind of feel. Our buses are also enhanced with compatible technology and high-end features for electronic devices like phones, laptops, tablets among others.
Our luxury limo shuttle buses vary in sizes to ensure that both small, medium-sized and large groups of travelers can always get the right match for their trips. We can cater for groups of 7 seaters, 8 seaters, 9 seaters, 13 seaters, 16 seaters, 19 seaters, 20 seaters, 23 seaters, 24 seaters, 30 seaters, 40 seaters, 43 seaters, 45 seaters and 49 seaters . In case your group has more passengers you can choose to hire different buses or a larger one for the journey.
Luxury Limo Shuttle Bus Rental for every Occasion
Our luxury limo shuttle bus charters not only guarantee a safe and comfortable trip but could also go a long way in building up on your confidence and style. We have luxurious shuttle buses that can be used for just any kind of occasion. Even if you may have a problem in identifying the most appropriate luxury limo shuttle bus rental to use for a particular event, there is no reason to worry because we can still help you make the best choice.
From our fleet, you can always get an ideal shuttle bus for;
We are committed to changing the myth that luxury limo shuttle bus charters are only for long distance trips and those who are financially well-off. Even if you are planning a leisure tour around the city, we can still deliver an appropriate luxurious limo to give you and your companions a ride.
The right Luxury Limo Shuttle Bus Charter when you need it
Reliability is always an important factor to consider when hiring a bus rental in order to avoid disappointments. At Bus Rental Singapore, we understand that people usually have diverse travel plans. As such, we always try to create schedules based on the needs of every travel group. We operate 24/7 365 days and are always ready to dispatch a charter bus to your service at any time that you wish to travel.
Our company is licensed to operate bus rentals in Singapore and Malaysia; therefore, we can always make your trip worthwhile to any destination. We cover both short and long trips with a guarantee of reliable services. By obtaining a luxury limo shuttle bus charter service from us, you can easily avoid a lot of common inconveniences like, losing directions, lateness, and frequent car breakdowns among others.
All our drivers are licensed with adequate knowledge of several places in Singapore and Malaysia to get you to your destination safe and quickly. Besides, our fleet is also well-maintained for better performance in every journey. In every luxury limo shuttle bus, we have assigned attendants to take care of all passenger needs for convenience. Whether you need a charter for regular pick-ups and drop offs, urgent transfers, one-way trips or long-haul travel, we can always deliver the best at your own convenience.
Affordable Luxury Limo Shuttle Bus Rental
Despite the prestige, safety and convenience of our luxury limo shuttle bus rentals, we offer pocket-friendly rates that can suit just any travel budget. In fact, you no longer have to worry about the cost of obtaining luxury limo shuttles anymore if you choose our services. As soon as you contact us, we will listen to your needs and offer professional guidance for choosing the most appropriate travel package for your budget.
The Best Luxury Limo Shuttle Bus Rental Services in Singapore. Contact us today!
Customer satisfaction is something we highly regard and even with a limited budget, we will still make sure that you are able to find a luxurious limo shuttle bus charter for a memorable trip in Singapore. Our travel packages also come with attractive offers to enable you get the best luxury limo shuttle bus rental services without spending much. Get in touch with us now for the ultimate travel solutions across all destinations in Singapore and Malaysia.