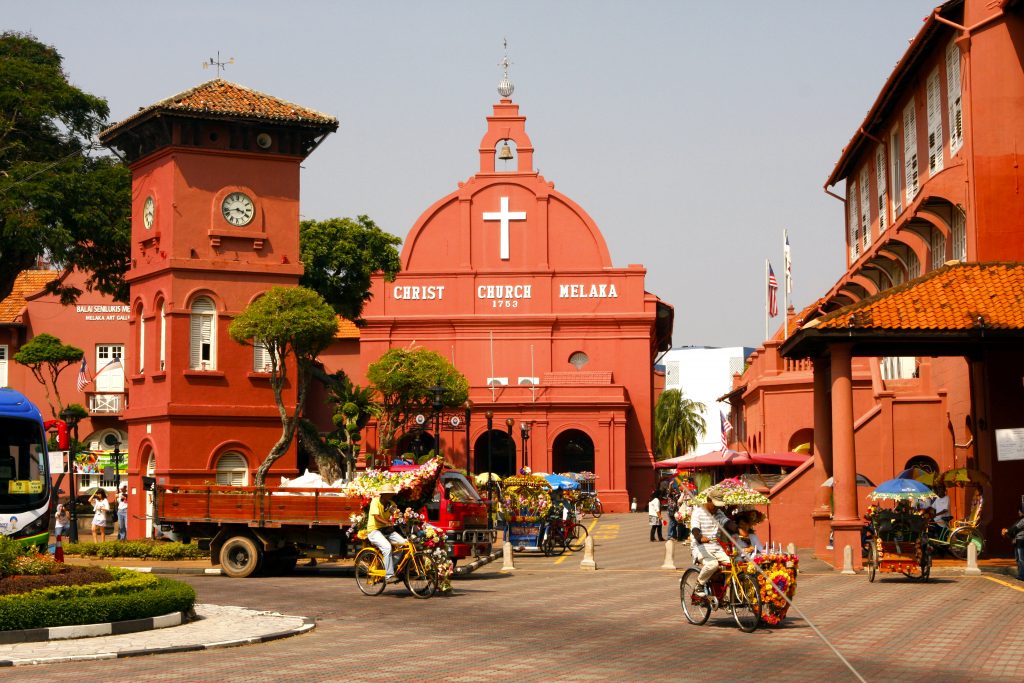 The Malaysian City of Malacca is one of those that are frequently visited by many tourists from Singapore and other countries around the world. The city is known for its diverse sumptuous delicacies including, Satay Celup, Jonker Street, Nyonya laksa, chicken rice among others, which have attracted visitors for many years. In fact, The Little Nyonya in Malacca is a favorite spot for quite a number of visitors from Singapore.
Malacca is also a city with rich cultural heritage that can effectively suit educational trips as well as tours by various groups that may need to learn a little more about this marvelous city. However, planning for such trips usually require attention to details, especially when traveling with large groups of people. The best way to travel in ultimate comfort, style and convenience is a coach rental from Singapore to Malacca.
Instead of sweating so much just to acquire a coach rental for a trip between Singapore and Malacca, simply talk to us. We can always offer the most suitable coach rental for your group and event. Our commitment is to enable all group sizes acquire the right rentals for stress-free and exciting trips from Singapore to Malacca at any time of day, week, month or year.
Popular Tour Destinations in Malacca
There is so much that you can always enjoy around the city of Malacca apart from just the delicacies and culture. In fact, the city is thriving with a series of activities and attractions for holidays, parties, leisure tours, business conventions among others. We can always take you to and from any location in Malacca for the desired experience during the day as well as at night. The city hosts a variety of parks, museums, iconic streets, eateries, clubs and hotels among others that can cater for diverse tastes and preferences.
Some of the key destinations that most of our clients have visited in previous trips to Malacca include;
Baba Nyonya Heritage Museum
Jonker Street
Malacca Wonderland
A Famosa
Batu Pahat
Having been operating tours between Singapore and Malacca, our drivers and travel planners are quite knowledgeable on the various unique destinations in Malacca that you can visit for different kinds of experiences. Whether you are looking for an exclusive resort or park to spend the weekend or even a few days with a group, we can offer you a wide selection of the most ideal spots to choose from.
We can help you determine the best destinations for corporate conventions, weddings, family holidays, weekend getaways, school trips, birthday celebrations among other kinds of events. By traveling with us, you will never experience problems like losing directions to various destinations. Our drivers and coach attendants will make sure that you visit all the intended locations as planned.
Travel from Singapore to Malacca on Your Own Terms
Based on the reason for your trip, we are always willing to make your movement as flexible as possible so every passenger gets to enjoy the journey. With us, passengers get to choose the most appropriate schedule that suits their travel plans and expectations. With our coach rental from Singapore to Malacca, you always have the freedom of enjoying the trip in the best way that suits your needs.
Instead of putting up with the commotion and crumped conditions in public transport, our coaches will pick up all the passengers from their designated points. In fact, we can even move from home to home collecting passengers before the journey. Even when we get to your destination in Malacca, our buses can still move you around to and from all the places that you want to visit.
We understand that various groups usually have different travel plans. There are some who may wish to travel non-stop and also others who may wish to visit numerous places or make stop-overs along the road. Regardless of how you intend to travel by road to Malacca from Singapore, we can always make your trip much easier and enjoyable, just the way you want it.
At Bus Rental Singapore, we do not limit passengers to two-way trips only but, also cater for one-way travels to Malacca. Even if you have a long trip to Malacca lasting several days, we will make sure that you get the most convenient means of road transport for a unique and memorable journey. In case you book our coach for a two-way trip to Malacca city, we will also make sure that all passengers are dropped-off at the designated locations in Singapore after the tour.
Get in touch with us today for your coach rental from Singapore to Malacca.
Since there are so many reasons to visit Malacca, our coach rental services from Singapore to the Malaysian city are customized for different group sizes. Despite the number of people that you intend to go on the trip with, we can always offer the most appropriate rental that guarantees the safety and comfort of all passengers. Our fleet offers a wide range of choices for exclusive road transport between Singapore and Malacca including;
We can always deliver convenient and efficient transportation solutions for both small, medium and large groups of travelers. To make your trips even more stress-free, we also provide drivers for every rental to drive you to and from all the required destinations in Malacca with your team. All you need to provide us with is the number of passengers, destination and schedule, then leave the rest to us as you focus on the important activities of the trip.
Travel in Ultimate Comfort and Style from Singapore to Malacca
We are not only committed to the safety and convenience of our passengers but also how you feel aboard our rentals. That is why we have included various facilities and amenities to ensure everyone is comfortable and having the best time on the bus.
Some of the cool features that you can find on our coach rental from Singapore to Malacca include;
Central air-conditioning
Luxurious leather seats
Audio and video entertainment
Adequate space for passengers and luggage
Get in touch with us or book online for a highly convenient, and affordable coach rental from Singapore to Malacca