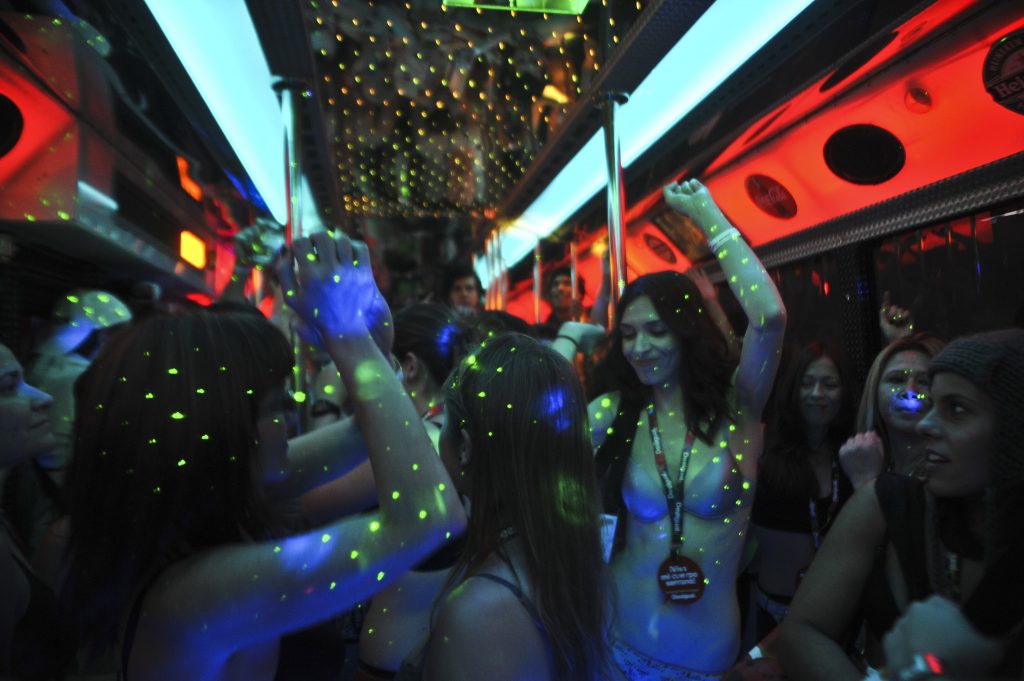 When planning to acquire a party bus rental, there are usually lots of aspects to look into in order to ensure a more remarkable party. An ideal package should be one that can fully cater for your partying needs with a guarantee of comfort, safety, reliability and affordability. That is exactly what you can get whenever you acquire party bus rental from Bus Rental Singapore. We offer unique and attractive packages that you can always count on for the best experience in every occasion.
Some of the key factors to consider when choosing party bus charter packages include the destinations to visit and amenities offered on the bus. We understand that parties usually call for diverse fun activities so as to meet the demands of all guests on board. It is for this reason that we always strive to deliver custom party bus rental, designed according to the needs of every group. With our packages, you have the freedom of incorporating various kinds of activities to make your party unique and interesting in every way.
Obtaining party bus rental packages will save you from a lot of inconvenience. With the right one, you can ensure an exclusive party only attended by the specific invited guests. Besides, it also enables you to have fun with a group of friends or workmates at selected destinations across Singapore, without digging deeper into your pockets. We have the ultimate party bus rental packages that can easily transform your event into a great story.
Party Bus Rental Packages for all Events
Holding parties in homes, clubs or bars is a good idea but it does not guarantee total freedom for enjoyment. Such options could restrict you and your guests to certain conditions, which may ruin the whole party. A party bus rental is a convenient plan for great fun in every event since the services are delivered according to your own needs and preferences. With us, there is no limit to the activities and level of enjoyment in every occasion.
Our party bus charter packages are ideal for various events including;
There are also several other events that you can still enjoy with party bus rental packages like, leisure travels, family mini-parties, karaoke parties, transfers to the airport among others. Based on the occasion, we can always provide the right package that guarantees a more fulfilling experience to all guests on board.
Reliable and Convenient Party Bus Charter Packages
Today, one does not have to book a party bus rental package in advance to ensure convenience. Our party bus rental services are offered round-the-clock and can be obtained at any time of need (just use our online booking form). In fact, we are always very keen on delivering party bus rental solutions that are well suited to the specific schedules of all clients. Our packages can guarantee an amazing party experience for diverse groups both during the day and also at night.
We understand that reliability and convenience usually have different meanings to people. As such our packages are not designed to a particular standard. Instead, we always develop packages that are customized to your specific needs and expectations. Whether you need to hold a party on the bus or simply require private transport to one or particular venues, Bus Rental Singapore has the ultimate fix.
Travel in Luxury and Comfort to any Destination
Party bus rental are aimed at offering the most prestigious and safe parties to all kinds of events. Our packages and services incorporate a wide range of amenities that can offer you and your guests an amazing party experience in one venue or across several destinations in Singapore and Malaysia. In fact, there is so much that you can enjoy with our party bus charter packages including;
Great entertainment
Furnished buses with leather seats
Air-conditioned party buses
Waiters/Waitresses at the service of all guests on board
In order to deliver a unique experience, our packages also cater for internet connection to passengers. Besides, we can also include condiments to guests while on the trip to create a more relaxed environment as well as ignite the mood of the party. All our party buses are maintained in the best working condition and operated by licensed drivers for unrivaled safety and comfort in every trip.
Talk to us now for highly convenient and affordable packages for your party. Contact us today!
Get the Best Party Bus Rental Packages for Less
At Bus Rental Singapore, you no longer have to endure high rates on party bus rental services. We offer one of the lowest rates that you can always rely on for greater savings when planning a party. We understand that there are sometimes when you may be on a limited budget and would never wish to ruin your special occasion simply because of that. We are committed to ensuring that everyone is able to acquire the best party bus charter packages for children, youth as well as adults without spending more. In fact, we can help you get the right match for your budget with a guarantee of an exceptional party.
Custom Party Bus Rental Packages for every theme
The theme of a party is its focal point and should easily tell the purpose and other key elements of the event. Depending on the type of party that you are planning, there are various kinds of themes that can be expressed. Besides, the theme can be brought out in different aspects of the party including, the means of travel, activities as well as the general experience. Getting a package that caters for all these can sometimes be tricky but, at Bus Rental Singapore, you can easily acquire an ideal match.
Our experts will first discuss with you about the desired experience to enable us deliver a package that suits the theme of your party. We can include additional features and services to meet the specific demands of your party. With our packages, you can plan a party on the bus at a select location or choose to enjoy yourselves with stop-overs at various destinations across Singapore.